After years of memorizing scripture, I've come across a number of free tools and resources that I wish I had known about earlier. To memorize the Bible takes a lot of hard work – don't get me wrong – but the right tool can make the job much easier.
So if I was to start over, here's what I would recommend to help someone memorize the Bible faster and easier.
1. Verse Card Maker | Free Bible Flashcards
Many people love to review the Scripture they've memorized using physical notecards instead of an app on their phone. I love this as well, but creating those cards tends to take up a lot of time, doesn't it?
There are plenty of places online where you can buy sets of cards for memory verse review, but did you know that you can also create your own for free?
I found this easy to use website, Verse Card Maker.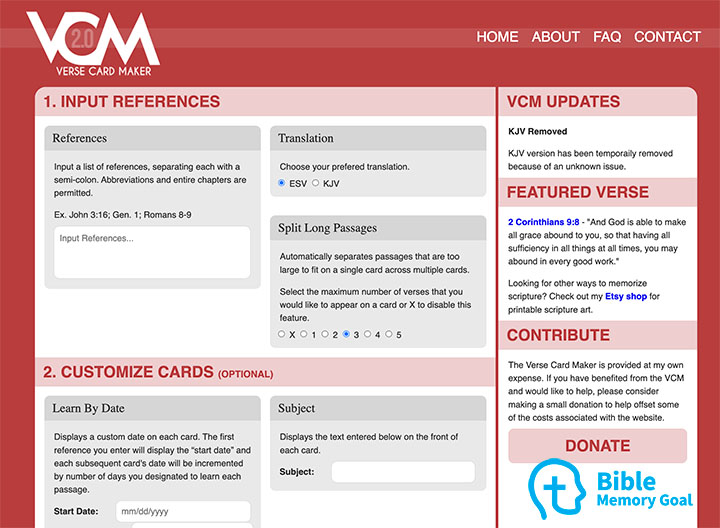 Using this website, you can:
Input the passage you're memorizing
Put how many verses you want per card
Choose your preferred font size
Print them out (single or double sided)
Within minutes, you have cards you can use for your review!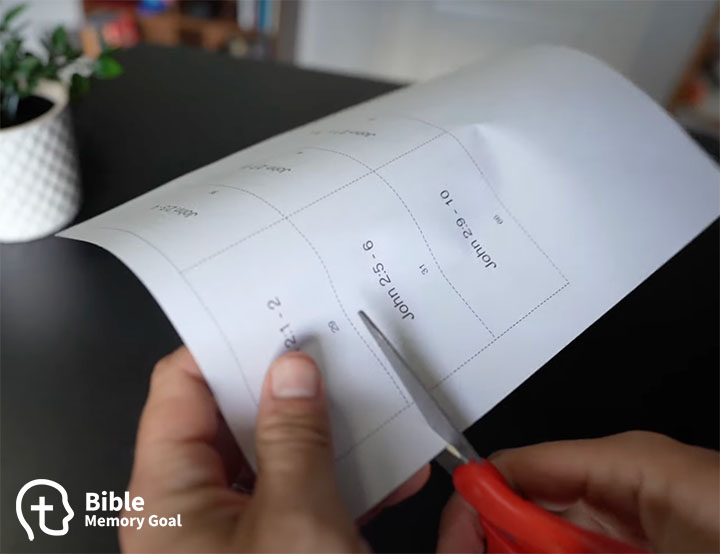 The only downside of this free tool is that you're limited to only using the ESV and King James versions of the Bible. If you chose a different version of the Bible to memorize, this tool might not work for you.
2. Memory Grid Maker: The "First Letter Method"
This method, which was discussed in my interview with Ronald Johnson, is a way to give your brain only part of the information needed during the review process.
The problem is that most people tend to peek at the entire verse or word when reviewing, which doesn't force their brains to work on active recall. The first letter method fixes this, but as with the flashcards above, it takes time to create this resource by hand.
The Memory Grid Maker from Scripture Memory Fellowship allows you to pick a passage of the Bible that you're memorizing, choose the translation and then create a printout that has the first letters of each verse laid out in a beautiful grid.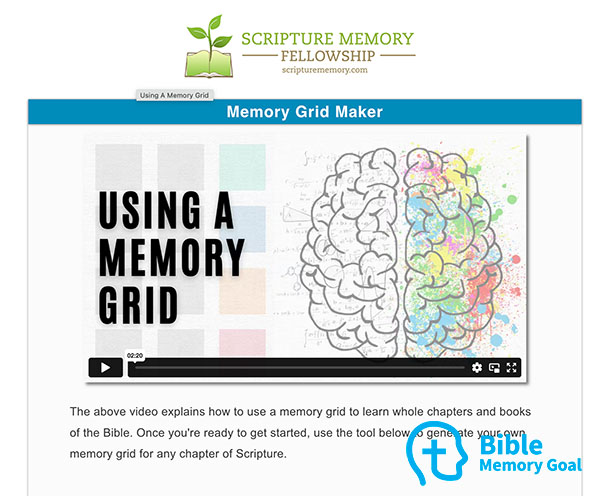 If you've never tried this method before, it's really worth giving it a shot. After choosing your passage and translation (they have many more to choose from), you'll end up with something that looks like this: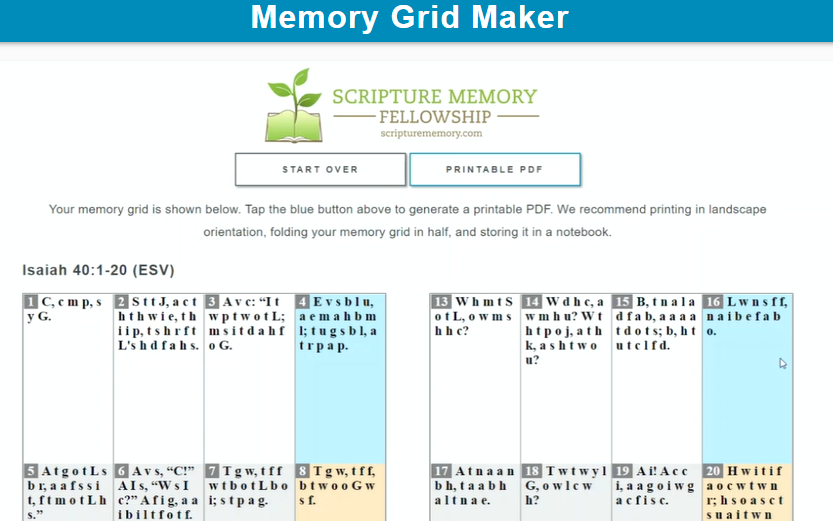 3. Using Scripture Already Put to Song
Last week one of our community patrons named Rachel was getting a little burned out by rote memory of the Psalms she was going through, and she decided to give music a try. She found the book of James put to music and played it on repeat throughout the day.
To her surprise, the speed at which she was able to capture all five chapters of James, using only songs she listened to, was incredible! As in…less than a month. (seriously!)
Here are a few YouTube channels that I really like: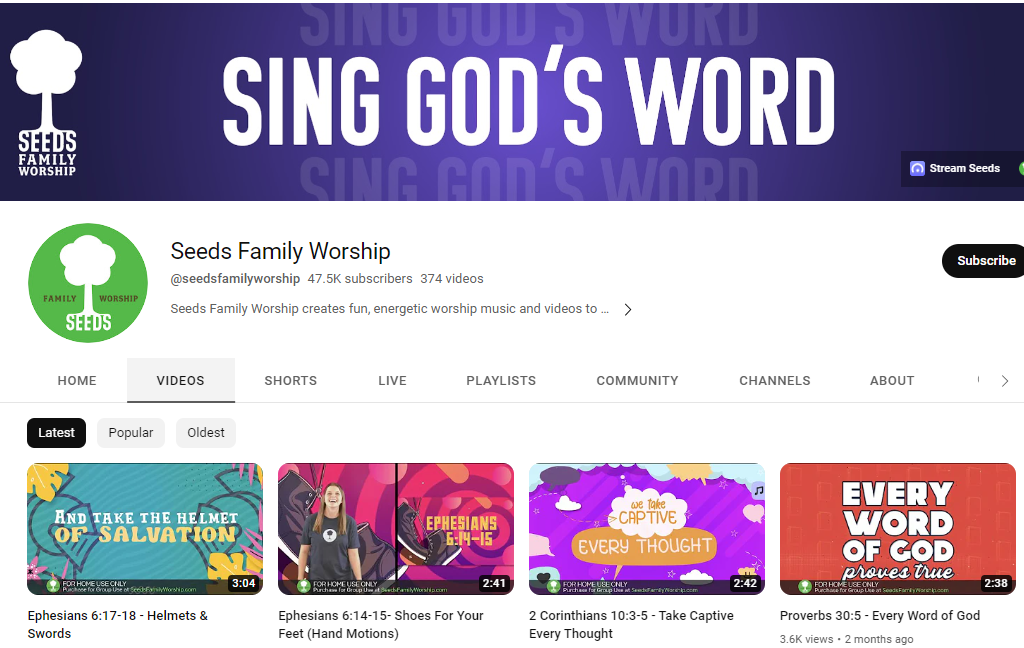 There are so many great musical resources that I can't even list them all here. It's possible to just go on YouTube and search "[passage] + song + [translation]" to find what you want.
4. Looping App Tool: Memorizing on Repeat
I'm a big fan of various kinds of oral review, recording myself saying the verses or passages I've memorized and then listening to them during a run or while driving in my car.
It's easy to find a way to record yourself, but the biggest downside is that once you've listened through a recording, you have to restart the file in order to listen again. Here's a hack my friend Craig Brown told me about in our interview last year – a non-traditional app that can actually help you with memorizing.
The app is called Jam Looper, and it's normally used by musicians to loop a section of music over and over again.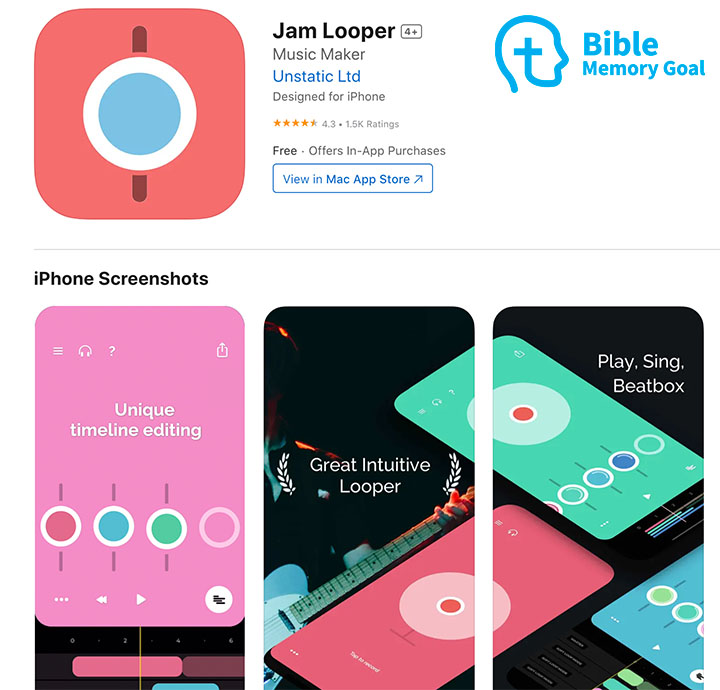 However, in this case, Craig would record the verses he wanted to memorize and just listen to them on a loop. He didn't have to restart it because the app loops it continually.
This free app is available on iOS and Android and is a great way to review on the go!
5. Mobile Apps: To Help with Long-Term Retention
This kind of resource list wouldn't be complete without mentioning some of the best Bible memory apps to use such as Bible Memory or Verse Locker. There are several different options, but they do pretty much the same thing.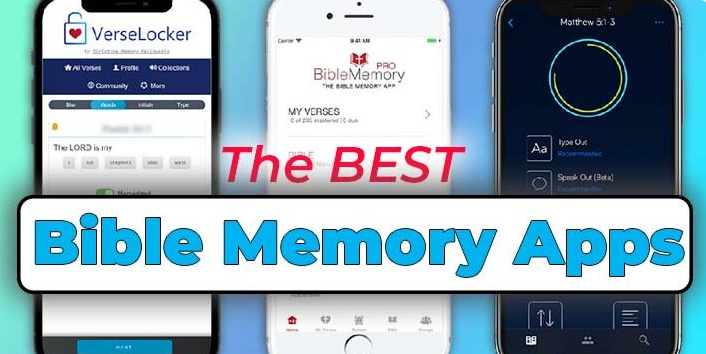 In my opinion, the biggest benefit these apps provide is their ability to help you create spaced repetition in your Bible memory so that you consistently review verses, moving them from short-term to long-term memory.
The downside of using these apps is that you're constantly looking down at your phone, which I'm not a big fan of doing. Overall, I would encourage you to move away from tying Scripture memory to your mobile device.
However, for the purpose of tracking and review, these apps are still a great option.
6. Memorize the Bible with a Community (free!)
I know that this last one is biased, but there's really no better way to build excitement and accountability around your Scripture memorization than by doing it in community with other believers.
If you can find a friend or somebody at church to do this with you, that's ideal. But for many of us, that might be hard to find, and that's where our free Bible memory community can help.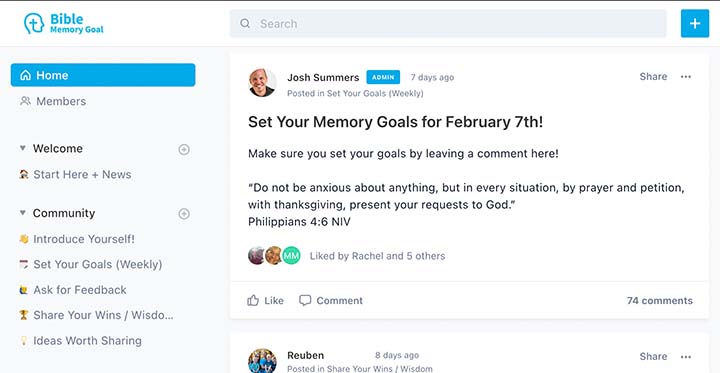 For example, last week our community completed a 7-day summer challenge where members set their own goals and encouraged each other to work at the goals daily.
In just one week hundreds of new verses were memorized, and people who had lost motivation were able to get excited about committing more Scripture to memory.
Follow on YouTube or Podcast!
If you'd like to see these free Bible memory resources in action, check out this video from our YouTube channel:
---
More Bible Memory Resources
Are you interested to memorize more of God's Word? Check out the various resources we have available on Bible Memory Goal: