What are the best Bible memory apps that you can use on your computer or mobile device to help you track and review the Scripture you're working to memorize? And is this the best way to memorize Scripture?
If you're short on time, you can see the top memory apps here.
But Wait, Before we Begin…
I want to start with a brief encouragement.
As Christians, we believe that
…the Bible is God's inspired Word;
…as it's Author, He is the one who can shed light on it's meaning and help us to recall it in times of need (John 16:12-15);
…it is our reliance on God which enables us to grow more in Him by His Word and through our relationship with Him.
I share this as a pre-cursor to investigating the best Bible memory apps since it can become easy to think that our Bible memory is something separate and distinct from our walk with God, and that we are able in ourselves to grow closer to God or become 'self-directing' by memorizing key Bible verses and quoting the Bible as we think we should.
Don't get me wrong, the Bible is God's Word, and it should be quoted…
…but it must be done with the intent of the author, that is at the direction of the Holy Spirit.
Memorizing Scripture ≠ Understanding Scripture
You see, in the New Testament, there were people who knew the scriptures incredibly well, and yet they refused to acknowledge Jesus as the Son of God. Most often, this group was the Pharisees, but at times the scribes and the Sadducees also tried to oppose Jesus on the grounds of the text of scripture, or their 'understanding' of it.
Jesus mentioned this particularly in John 5:37-40 where he indicated that the Pharisees didn't understand the scriptures, for if they had understood them, they would have seen them as pointing to Him. Jesus went on to say that they had been looking to the scriptures for life but overlooking the fact that this life was found in Him, as the scripture bore witness too.
There are also occasions where Jesus makes statements (to the Pharisees) which begin with the phrase "Have you never read…" (Matthew 21:16, 42, Mark 2:25), implying that the Pharisees either hadn't read the scriptures or (more likely) didn't understand what they'd read.
Even Satan, when he was tempting Jesus, quoted some scripture to Jesus in Matthew 4:6. But he only did this in one of his temptations, whereas Jesus responded to all the temptations with scripture quotations.
Bible teacher Keith Ferrin talks frequently about the need to "not just know the words, but know the Word."
You see, it is by God's revelation of His word to us, and by the enabling of the Holy Spirit that we are even able to memorize Scripture verses and recall it, understand it, and quote it appropriately.
I use this as a backdrop for looking at the various Bible memory apps available in 2023, to encourage you that you can use one app, or another, or even go tech free, and as long as God is in it, you can still memorize Bible verses.
Remember, people had clearly memorized scripture in the Old and New Testament times and were even commanded to meditate on it day and night, well before there were smart phones or computers or apps. I know, it sounds hard to believe in our 'modern' times, but perhaps we can learn something from this, that what is really needed in Bible memory is not necessarily a specific tool (although they are very useful), but is the desire of the person and the enabling of the Holy Spirit.
5 Best Bible Memory Apps for 2023
Having said all of this, let's take a look at a few of the best Bible memory apps that are available on both iOS (Apple) and Android devices. There are plenty! Especially if you add in memory apps that aren't specifically designed for Scripture.
Most of these apps can be used free of charge and are part of my list of the best free tools for Bible memory.
What follows is my own impressions and experiences in using various Bible memory apps.
The Bible Memory App (#1 Recommended)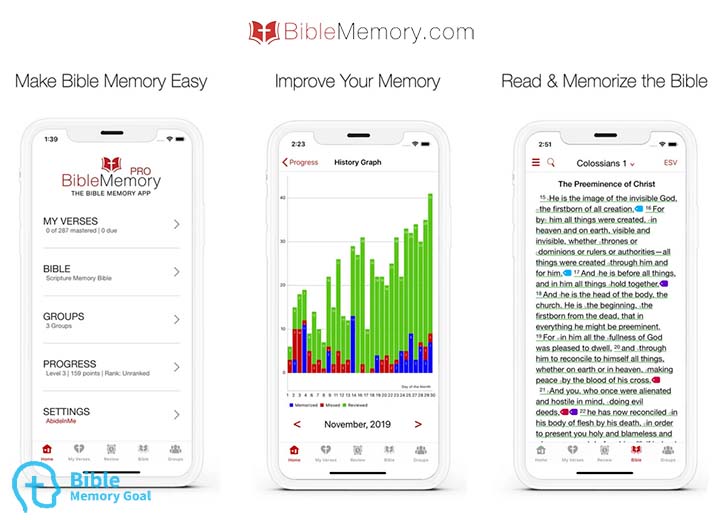 The Bible Memory app, formerly known as Scripture Typer, is an incredibly useful app for creating a regular Bible memory routine and is used by many people. Indeed, most people I come into contact with who have memorized scripture have used the Bible Memory app as one of their tools.
The Bible Memory app makes it very easy to add verses or chapters to memorize, and then to quickly move on to the actual memorization part, thus removing a lot of the organization burdens of large memory projects. This burden removal also includes the implementation of a spaced-repetition system once a verse has been memorized.
But perhaps the most useful part of this whole app is the 'scripture typer' part, where you type the first letter of each word, and the app shows the next word in the verse telling you whether you got the first letter correct or not. The app also keeps a record for future attempts so that you can see where you have failed in the past and need more practice.
You can use the app or there is even a web version on bible memory.com.
The app itself is free to use for a fixed number of verses, but after that requires purchase. The cost is not large and it well worth it if you are currently memorizing large amounts of scripture. The purchase also unlocks greater functionality.
The Bible Memory App is available on iOS and Android devices as well as a web app. There's even a kids version of the app where you could encourage your child to memorize Bible verses. Personally, I use only the app, but I know some people who much prefer to type with their keyboard on their computer.
Verse Locker App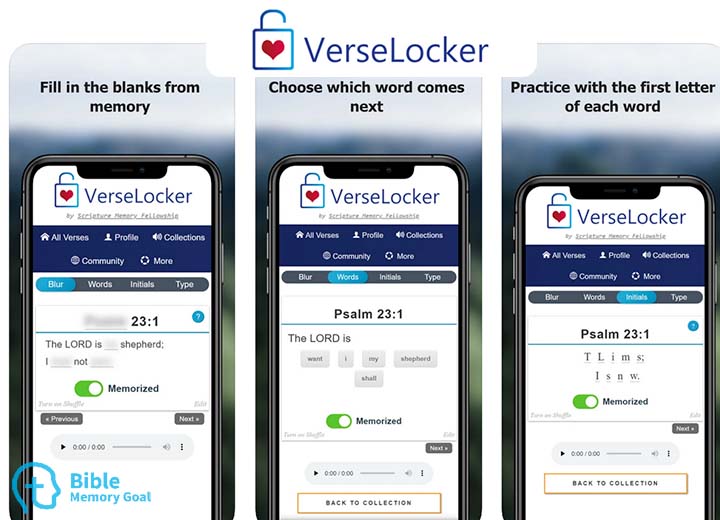 The Verse Locker app is created by Scripture Memory Fellowship and is also available on iOS and Android devices along with a web app.
The most attractive benefit (in my opinion) for this app, is that it is free to use, with no limits on features or number of verses.
The app has many features present in other apps such as a scripture typer tool and a word bluring tool, to gradually conceal more and more words in a verse. Additionally, there are some unique features of this app, such as the ability to listen to audio of the verse being read out and showing the first letter of every word as a memory prompt.
When comparing this app to the Bible Memory app, I would say that the Bible Memory app is more streamlined. It kind of forces you to go through the scripture typer feature to 'learn' a verse.
The Verse Locker app, on the other hand, gives you more flexibility in the tools that you want to use in memorizing passages within the app, but this makes the app feel a little less smooth in general 'flow' of use.
Overall, this is a very useful app and would be a good one to have on your device, particularly if you want more than one app.
Verses App (iOS only)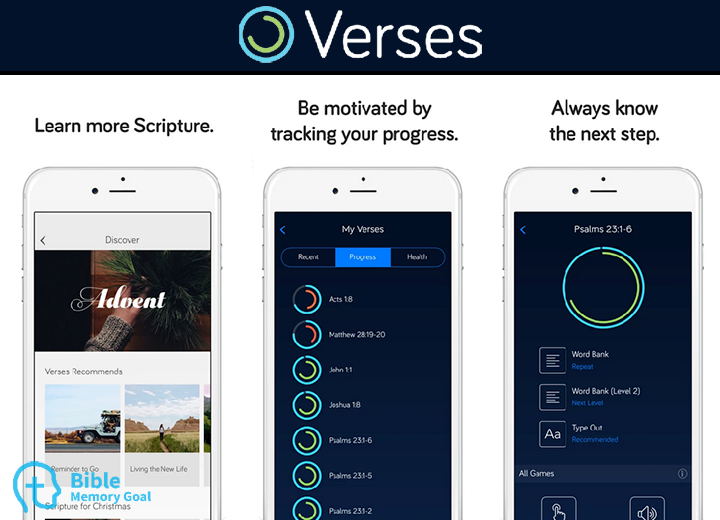 I have had the Verses App on my phone for a while now, mainly because it has a few features that the Bible Memory app doesn't have, such as re-ordering phrases, showing a passage a phrase at a time when you click the screen (which can be useful to become familiar with the structure of longer passages), and even some more experimental features such as the 'speak' feature which enables you to speak the verse or passage out loud and have the app dictate and correct you on the go (this is still in beta and has some bugs).
This app does have a free version which is usable, but also has a subscription model for increasing the functionality.
One of the downsides of this app is that it is only available on Apple iOS devices and not on any other platform, making it only accessible to some people.
I haven't used this app as much as the others mentioned above, but it is very fluid and nice to look at, making it a nice alternative for memorizing verses if you have an iPhone.
Fighter Verses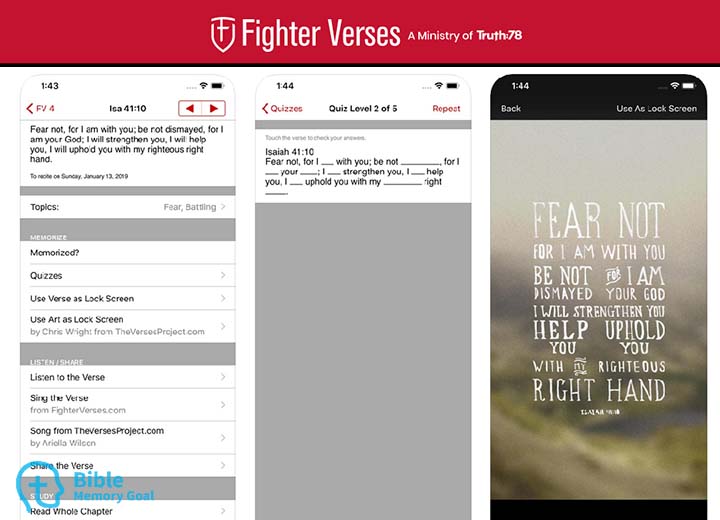 I have never used this personally as there appears to be no free version, but have known a few people to use it. The app comes with a number of Bible Memory plans, which give a more structured approach to learning verses. The memory plans include verses to memorize and give you a time frame (such as weekly).
I should say at this point that most Bible Memory apps offer some sort of 'plan' system you can use to memorize, but in my opinion Fighter Verses and Scripture Memory Fellowship have the most comprehensive plans.
Each plan in the Fighter Verses app comes with other supplementary material as well such as devotions and songs to help you learn the verses and apply them to your heart as you memorize, which supports the idea that scripture is to be part of our walk with God, and not simply something we memorize mindlessly (although God can still use that too).
The app itself is available on both iOS and Android devices. If you prefer, they sell a 3×5 card set of fighter verses on their website as well.
MemLok Bible Memory System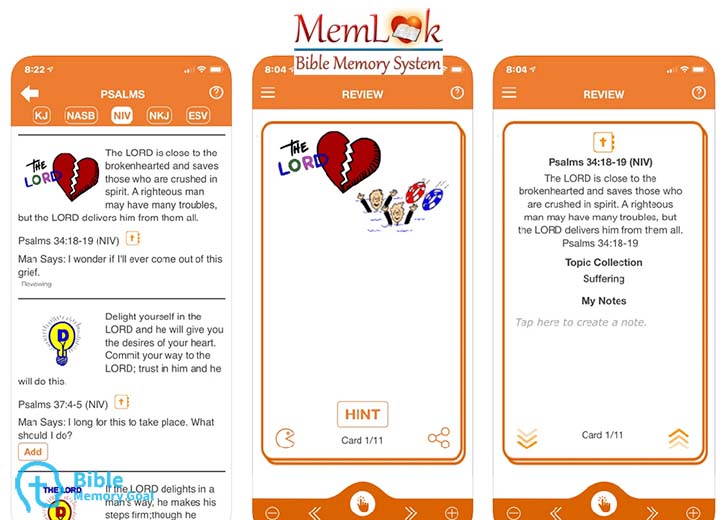 MemLok is fairly unique compared to most other apps, in that it's main 'memory feature' is focused on visual mnemonics. Essentially, this means memorizing verses of the Bible using images to represent the wording of the verse.
This may rely on puns, or similar sounding words in image form, or other mnemonic devices.
The app does eventually require payment, and the pre-determined visual aids seem to only be available in some Bible translations, as the puns and word images created would depend on the unique wording of the translation.
I don't personally use this app anymore but it could be useful if you find visual mnemonics helpful.
This app is available on both Apple iOS and Android devices.
Which Bible Memory App Should You Use?
There are many ways to memorize the Bible, and as can be seen from the list above, there are many app features available for memorizing Scripture. I hope that after reading this article, you have some sense of the main options available to you, and that your focus is on the enabling power of the Holy Spirit to guide you.
What Bible Memory apps do you use?
Leave a comment below along with your thoughts about the app.