It doesn't matter if you're 8 years old or 80; whether you've memorized before or if this is your first time. The most important part of any Bible memory journey is this:
You just need to get started.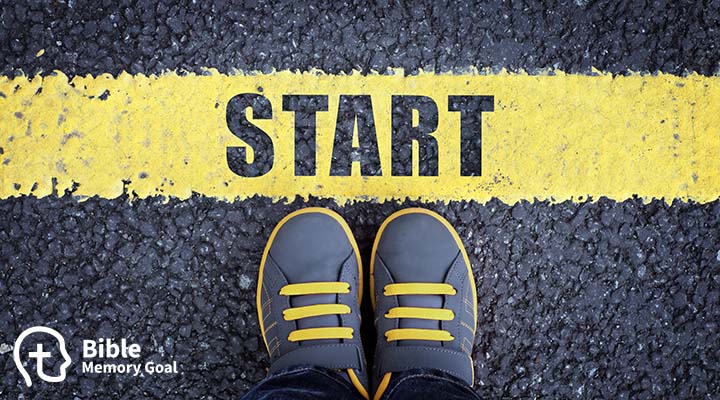 There are so many road blocks that keep us from making Scripture memory a priority, but you can use this Get Started Memorizing the Bible guide to motivate you to stop procrastinating and start doing. We encourage you to read through this carefully without skipping any steps.
Here's the quick rundown of how we're going to get started:
Are you ready to get started? Great! Let's dive right in and talk about your "why".
Know Your "WHY" for Bible Memory
The most important step for anybody wanting to dive into Scripture memory is to start with your WHY.
Why do you want to memorize the Bible?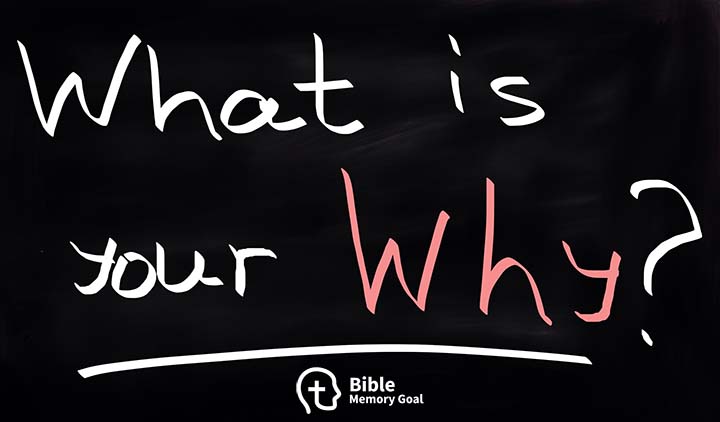 Be careful! It's far too easy to answer this question with a simple "because God tells us to!" (Psalm 119:11).
There are other answers that are just too generic. "To know the Bible more." or "To understand my faith better".
Hear me clearly: these are all valid reasons to memorize the Bible, but they are not a strong WHY.
A strong WHY is going to help you stay motivated when memorization gets tough and it's going to help you understand where to get started. Consider the following questions to determine your WHY:
W: What do you believe about Scripture? (2 Timothy 3:16)
H: How do you plan to use what you memorize? (Hebrews 10:24-25)
Y: Why does this transformation matter to YOU?
Before you continue, make sure you can articulate your why in the following way:
"Bible memory is important to me because ________________________________"
Plan Your Bible Memory Journey
Now that you know your WHY, the next step is to lay out a plan for your memory journey. Wandering around aimlessly rarely gets you very far, but if you're not careful this kind of planning can also become overwhelming.
Where do you start? When do you stop? And how do you plan to get there…wherever "there" is?
Don't be discouraged! The work of memorizing Scripture is something you can enjoy for the rest of your life here on earth, and nobody is looking over your shoulder counting how many verses you memorize. Take your time and use the next few sections to help you plan.
Choose What to Memorize (Verses? Books?)
The first obstacle most people face is trying to figure out what they should memorize. And the good news is that there is no "wrong" answer! You could memorize the top 100 verses in the Bible or you could opt for an entire book of the Bible.
Here are some ideas to consider:
This really boils down to four questions to help you choose a book of the Bible to memorize:
Do you want to memorize concrete or abstract?
What length can you reasonably memorize?
Which book of the Bible has personally impacted me?
What engages and inspires me?
It's also worth considering whether you plan to memorize individual verses or entire books of the Bible.
Choose a Bible Memory Method
If you think that rote memorization is the only way to memorize the Bible (i.e. saying it over and over again), then you're in for a surprise!
There are so many amazing methods for memorizing the Bible that will not only make memorizing fun, it also helps you retain what you're memorizing.
Consider that you could:
Most people tend to look at these methods and create the one that works best for them. Perhaps you're an auditory learner (you like listening to things), so you like the idea of recording yourself reciting Scripture and then replaying it while you're out taking a walk.
For an example, here's the odd method I use to memorize the Bible that has worked well for me:
As you can see, I've combined a memory palace with The Major System and a few other techniques to help me memorize entire books of the Bible.
Which Bible memory method should you use? Go with what feels most comfortable for you, but don't be afraid to test new ideas and see what sticks for you.
Choosing a Translation of the Bible to Memorize
This may seem like a trivial thing, but trust me – it's important!
The last thing you want to do is memorize large portions of the Bible in one translation, only to find later that you would prefer a different translation. It's not uncommon for people to have different parts of the Bible memorized with different translations, but every person I've spoken with who has done this (including myself), wishes they could go back and do it all in just one translation.
Unfortunately, I can't tell you which translation is best. That's a decision that you'll have to make for yourself.
But I can help you understand more about the Bible translation spectrum before you make that decision.
In the end, I chose to memorize using the New International Version, but I know many others who prefer the King James Version (KJV) or the English Standard Version (ESV).
I recommend you try to build in consistency by using the same translation to memorize that you use in your daily study. Ultimately, it's up to you!
Document Your Bible Memory Journey
Perhaps you're not a "journaling" kind of person. That's ok. I'm not either.
Documenting your Bible memory journey is more than simply writing things down in a journal. To properly document your journey means writing out this plan, setting your goal and reviewing your progress.
There are a number of reasons you may want to document your journey, including:
Keep a record of the progress you've made – This kind of record isn't for the purpose of pride; rather, it's there to encourage you when you get discouraged or hit various obstacles;
Keep a reminder of where you're headed – We're not pushing any kind of works-based faith here, but it's much easier to make progress when you have set a goal of where you want to go.
Celebrate how God has transformed you through His Word – The more you memorize Scripture, the more you begin to see how God uses it in your daily life in ways you never expected.
Unfortunately, memorizing Scripture can be lonely at times. Thankfully, you're not alone.
Memorize with a Community of Bible Memorizers!
The most underrated technique for memorizing the Bible faster and more efficiently is to memorize in community.
For those who have memorized anything in the past, most of the time we do it in an isolated environment. We have our head down, looking at whatever we want to memorize, muttering it to ourselves.
Want to join an online group of people who are memorizing the Bible together and encouraging each other? Click here to apply – it's free!
Join the A.M.O.S. Group Today!
Adult Memorizers of Scripture
Review Your Scripture Memory
Now that you've chosen which part(s) of the Bible to memorize, set out a plan and executed on that plan, let's make sure you don't forget it!
It's worth the effort to set up a good review regimen for yourself. Here are a few ideas to get you started:
As shown in the video, here are a few ideas for how you can review the Scripture that you memorize:
Recording and listening to the Bible
Review by Writing it Down
Review with Flashcard Apps
Review with the Bible Memory App
Review the Bible with Accountability
What's Next? Moving Forward with Scripture Memory
As I mentioned earlier, memorizing the Bible is a lifelong journey. Some people only memorize a selection of verses while others memorize an entire testament of the Bible. It's an investment you make now that will pay huge dividends years down the road.
So what's next? Here are some thoughts for you:
Encourage your children to memorize: There's no shame in bribing kids to memorize Scripture! It doesn't even have to be tons of scripture. It could be as simple as these 7 verses every preschooler can memorize. Time and again, I meet people who say that they still remember the verses they memorized as a child.
Recruit a friend to memorize with you! It's always more fun to do it with friends. You can join an online community of Bible memorizers, which is great, but nothing beats the face-to-face connection of a real friend to spur you on.
USE WHAT YOU MEMORIZE! Don't be like the Pharisees, who knew Scripture but hadn't applied it. Make sure that as you memorize, you internalize and apply what you're learning in your everyday life.
May the Lord bless you in your Scripture memory journey!