When memorizing extended portions of the Bible, the way you process and review the Scripture becomes very important. In this interview with memory athlete Ronald Johnson, you'll learn a creative way to capture the verses, have them easily accessible and even help build a framework to locate verses within a passage of text.
Follow along with all the Bible Memory Goal YouTube videos!
Of course, this particular method isn't anything new. Even Ronald shares the fact that he learned this while reading The Book of Memory, a book that covers how medieval culture used memory techniques to memorize the Bible.
In short, the technique goes like this:
Create a Grid: Create a simple grid that gives you boxes with enough room to put each verse.
First Letter Method: Within each grid box, write out the first letter of each word and repeat until you have each verse for a chapter written out on a single sheet of paper.
Color Boxes: Every fifth box, Ronald Johnson adds a color blue so that he can take advantage of his brain's spacial awareness to break out the chapter into five verse chunks.
In the end, it looks something like this: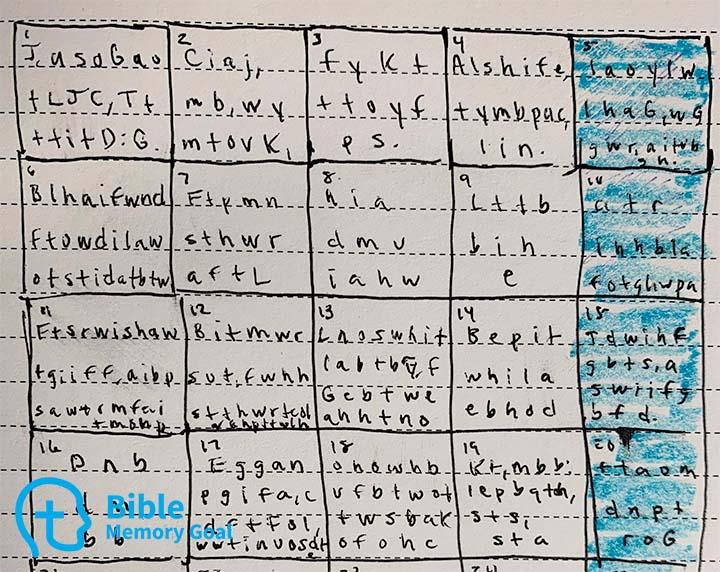 Now, when you need to review a chapter, you don't have to keep your entire Bible with you or pull out your phone. Instead, you can simply use the first letters of each word to prompt you to recite each verse correctly.
Download a Free Blank Grid
If this kind of memory method appeals to you, I've created a printable blank grid that you can print out in one of two different sizes.
This grid should give you enough space to write out the verses to most any chapter in the Bible (with the exception of some really long chapters, like Psalm 119 for example). It also comes with the fifth verse already shaded blue.
All you have to do is print it out and start writing out the verses you want to memorize. Many people even cut out the grid and glue it to a journal that they bring with them to review wherever they are.
I hope and pray that whether it's this or one of the many other techniques I'm sharing on this website, that you'll be inspired to continue – or restart – your Bible memory journey!