Welcome to a one-of-a-kind online community where people all over the world gather to encourage and inspire each other toward the goal of memorizing more of God's Word! We're the A.M.O.S. group (Adult Memorizers Of Scripture), and we'd love to have you join us!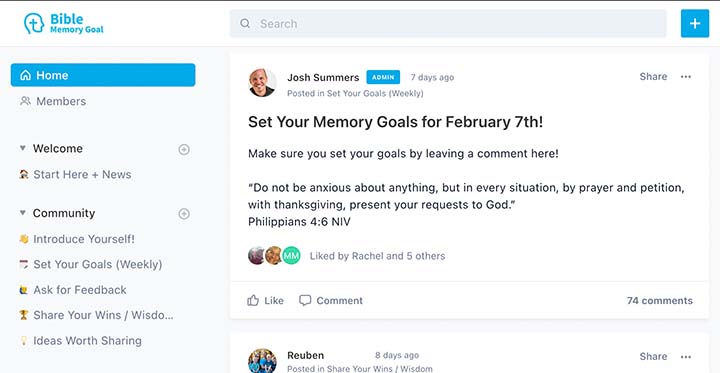 As you can see from the screenshot above, this FREE Scripture memory community will allow you to:
Set weekly Goals: Every Monday morning, you can publicly set your goals for the week.
Share your wins! Did you finish memorizing a chapter? Did you finish a book? Share your wins with people who can celebrate with you!
Ask Questions: Curious about a certain memory method or are you stuck on a certain problem? Ask questions and get a variety of answers from other members in the community.
Be Encouraged: Since the inception of this community, it has become a beautiful example of the global body of Christ coming together to encourage and inspire one another.
This community is free to join and a joy to engage with. I promise you won't be disappointed!
Since late 2021, this group has existed as a meeting place for Bible memory enthusiasts to join and create a kind of accountability you won't find anywhere else.
Think about it…
Do you ever feel alone as you memorize Scripture?
Do you have questions about different memory techniques and don't know who to ask?
Have you ever wanted to find others who share your passion for Bible memory?
You now have a place where you will be accepted and encouraged no matter where you are or even how good you are at memorizing.