Most of us want to make it a daily habit to read the Bible or memorize Scripture. But habits are hard to create, right? That's what we think, but they don't have to be! Learn how to make Bible reading and memory a daily habit using these expert tips backed by research.
Follow along with all the Bible Memory Goal YouTube videos!
In James Clear's book Atomic Habits, he lays the groundwork for how to create a new habit. To do this, you need to:
Make it Obvious
Make it Attractive
Make it Easy
Make it Satisfying
As I was reading this book, I kept thinking to myself, "How can I apply these same laws to Bible memory and Bible reading?"
Thankfully, it wasn't that hard. Here are 8 expert tips to make Bible reading and memory a daily habit, broken out by the four laws listed above.
Make Bible Reading and Memory OBVIOUS
The first step to creating a daily habit of reading the Bible or memorizing Scripture is to make it obvious.
Don't give yourself the excuse that you "forgot"! It doesn't have to be that way. For example, you could:
1. Create a Habit-Friendly Environment
Before you go to bed, make sure to put your Bible, a journal and a pen next to the chair that you normally use to read or memorize the Bible.
Make sure that it's a chair that you always pass after you wake up in the morning, so that way it becomes painfully obvious that the next thing you're supposed to do is to read or memorize the Bible.
2. Use Habit Stacking for Bible Memory
"Habit Stacking" is a term that refers to the act of connecting a habit you want to do with a habit you already perform without thinking. The basic formula is this:
After I [Current Habit], then I will [New Habit].
Using this idea of habit stacking, you could say something like…
"After I pour myself a cup of coffee (current habit), I will sit in my reading/memorizing chair (new habit)."
"After I get in the shower in the morning (current habit), I will recite three verses from memory (new habit)."
"After I drop the kids off at school (current habit), I will say two verses out loud (new habit)."
The idea is to eliminate the need to "remember" to read or memorize the Bible, because it's simply too obvious.
Make Memorizing the Bible Attractive!
I know, I know…the Bible is already supposed to be attractive to Christians, right? The truth is that it doesn't always start out that way. Just as we grow in our love for the Lord, we also grow in our appreciation for His Word.
In the beginning, it's perfectly acceptable to find other ways to make Bible reading and memorization attractive.
3. Attach the Habit to Something You Already Desire
In my interview with pastor Scott Stonehouse, he mentioned how in the early days of creating the habit of daily reading the Bible, he would always treat himself to a Starbucks frappuccino drink. It was the only time he ever allowed himself to drink them.
In short time, his brain began to associate the joy of this drink with the joy of sitting down to read and/or memorize his Bible.
You could do this as well with anything such as:
Only drink your coffee in the morning when you're sitting down with your Bible;
Treat yourself to a special kind of drink/treat that you only consume when reading or memorizing the Bible;
Allow yourself to check ESPN scores or social media after you've had your daily Bible time;
The thing you use should be personalized to your own desires.
4. Reframe the Benefit of Reading and Memorizing
One of the best things I ever did was to reframe the benefit of memorizing the Bible.
What I mean is this: instead of approaching this time by saying to myself, "Ok, now's the time that I have to read the Bible and memorize a few verses", I decided to turn it into a pre-habit prayer.
Before sitting down to read or memorize the Bible, I would first pray to myself:
Lord, thank you that I get to read Your Word; thank you that I have the ability to memorize! May this time be used for Your glory!
By simply reframing the benefit of what I was doing, I can now sit down in my chair with a positive and thankful attitude.
Make Reading and Memorizing the Bible EASY
Unfortunately, many of us have been trained from an early age to make the habit of Bible reading or the act of memorizing Scripture to be way too hard.
We don't just read the Bible…we feel like we have to read the whole Bible in a year!
We don't just memorize a verse…we feel like we have to memorize a whole string of verses!
STOP DOING THAT! Here are two ideas to make this habit easy.
5. Start Using the "Two-Minute Rule"
James Clear uses the two-minute rule as a way to create a habit by making it stupid easy. I mean, who doesn't have two minutes to spare in their day?
The idea is to limit your actions to only two minutes, at least while you're creating the habit. This means…
…instead of reading a whole chapter of the Bible, just read a couple verses.
…instead of memorizing 5, 7, or 10 verses in the Bible, simply memorize one.
Remember, you can always grow the habit later. The purpose of this two-minute rule is to create a daily habit by making it easy.
6. Set a Daily Alarm for Yourself
In addition to the two-minute rule, you can also set a daily alarm to go off sometime in the afternoon when it's usually most convenient for you.
In this way, every time your watch buzzes or your phone alarm goes off, you know to take just two minutes to stop and read the Word. Or to stop and review that memory verse.
Make Bible Reading and Memorizing SATISFYING
In order to make any kind of habit satisfying, we have to build a system that rewards the action after the fact. As with all of these rules, there are so many different ways that this can be done, but here are a couple ideas I liked.
7. Track Your New Habit of Bible Memory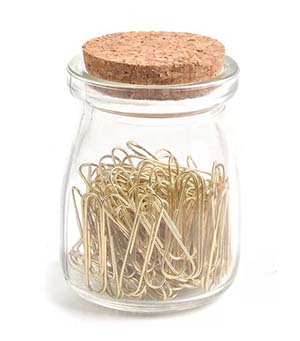 If you're the kind of person who likes to create checklists, you're going to love this!
Every day that you spend time reading or memorizing the Bible, make a simple check on a physical calendar. Over time, those check marks will build up to a chain of checks, and the more you have the less you'll want to "break the chain"!
When it comes to memorizing a chapter of the Bible, you could employ a similar technique where you fill a jar with the number of paper clips that represent the number of verses in that chapter.
Every time you memorize another verse, you move a paperclip from that one container into another. You now have a visual representation not only of how much you have left in the chapter, but also how much you've already memorized!
8. Find Accountability for Your Bible Memory Habit
One of the best ways to create a new habit is to surround yourself by people who are either doing the habit you want to start or have the same desire as you to start it.
So find somebody who also wants to memorize Scripture and see if you can do it together! Text each other once a week to share progress and encourage one another.
Or perhaps you can read through a book of the Bible with a friend. You might not do it together, but maybe you commit to reading one verse of Jonah every single day. Then, in less than two months, you will have read the entire book and you'll have things to talk about over coffee!
Build the Habit of Bible Memory
Whether it's Bible memory or simply reading your Bible, building the daily habit of sitting down to do it is pretty much half the battle.
It's not about will power. It's about setting yourself up for success and growing in your love for the Word and your relationship with God.
May the Lord bless you in all your Bible memory endeavors!