Yes, it is possible to memorize an entire book of the Bible! This past month, I committed to memorizing the book of 2 Timothy (4 chapters, 83 verses) using a simple 5 step process that you can use as well.
That's not to say that memorizing a book of the Bible is easy – it still takes a lot of effort and focus – but it's an attainable goal. And a worthy one at that!
This is no my 10th book of the Bible that I've committed to memory, and over the past couple years of doing this, I've developed a 5-step process that has helped me along the way. My hope is that it can help you as well.
Step 1: Create a Bible Memory Plan
Plans fail for lack of counsel, but with many advisers they succeed

Proverbs 15:22
Our natural instinct for "planning" is to simply set a daily/weekly memory goal (i.e. "one verse a day/week") or to take the number of verses you want to memorize divided by the number of days in your goal. In my case with 2 Timothy, it would have looked like this: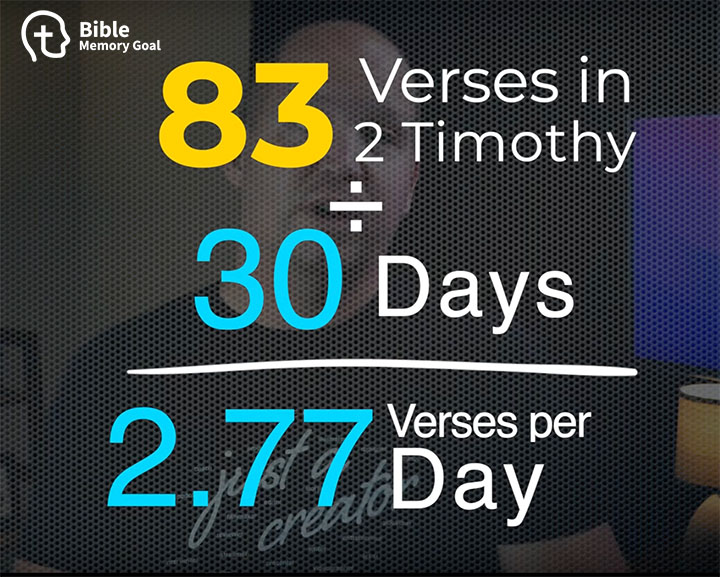 The problem with this approach is that you're NOT going to memorize three verses a day. I know I'm not!
Life happens. I need to rest. And as I discussed with memory expert Ron White we tend to forget that with every new verse we memorize, we need to commit even more time to review. You may start off with three verses per day quite easily, but by day 17 you just hit this wall.
Solution: Build a Memory Calendar
It may seem like overkill at first, but trust me, it makes a huge difference. Setting up a Bible memory calendar gives you permission to rest. It helps you see the finish line, especially when you're memorizing longer portions of Scripture (and I prefer memorizing entire books of the Bible instead of just verses)
Here is what my finished Bible memory calendar looked like: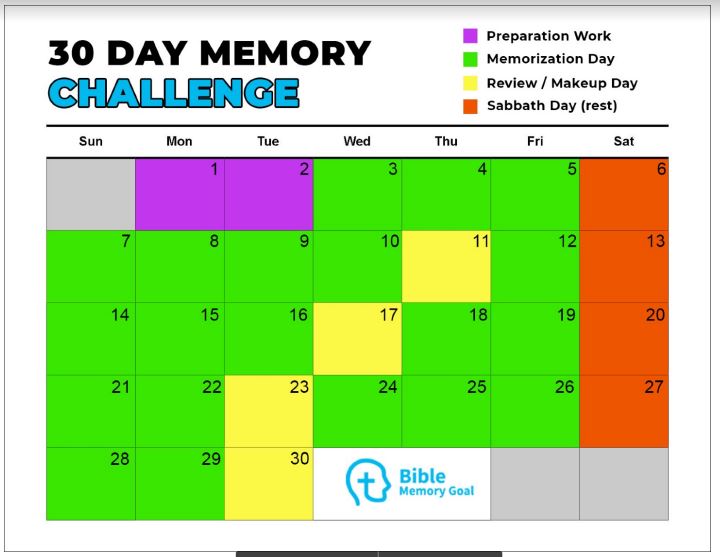 You're welcome to download a blank version of this calendar for your own use, but in the next few steps I'll explain what each of these four colors mean.
Step 2: Lay Your Bible Memory Foundation (Prep)
The second step, which for me took place on the second day (see the calendar above), is what I call "memory prep work".
This prep work looks different depending on the different Bible memory method you use. For example:
Memory Palace Method: For those who use a memory palace to memorize the Bible, this prep work means finding a good location for your memory palace and breaking it up into the various chunks that you need.
Song Method: If you sing the Bible for memory, preparation could mean determining which tunes you're going to use or finding the songs that you want to use on YouTube.
Rote Memory: If you rote memorize the Bible, perhaps you need to prepare 3×5 cards or a notebook that you'll use to keep your verses easily on hand.
The idea here is that you want to remove as much friction as possible from the daily Bible memorization process. That way, when it comes time to sit down and memorize, you'll have no other distractions to stop you.
Step 3: Focus and Memorize!
Everybody has their own way they like to focus their time for Bible memory. Perhaps you wake up early and sit in your "memory chair". Or maybe you take a walk outside and recite it over and over.
Whichever method you use, it's always good to start your time in prayer and then read over the entire passage that you plan to memorize that particular day. Read it a few times to see everything in context before you start memorizing.
Remove distractions. Put your phone on silent and try to be in a place where kids and spouses won't interrupt you. This is your time to focus and the easier it is to focus, the faster the memorization will be.
Step 4: Set Aside Dedicated Time for Review
It's important to remember what memory champion Ron White said during my interview with him a couple months ago:
"I think one of the biggest pitfalls when you are memorizing large amounts of anything is not allocating enough time for review."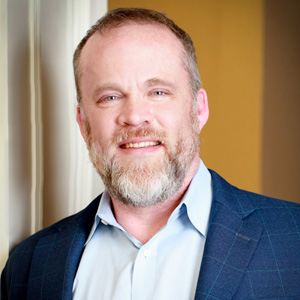 The days I marked in yellow on my Bible memory planning calendar were specifically set aside for review. The last thing I wanted to do was to get to the end of 2 Timothy and realize that I no longer remembered chapter 1!
Different Techniques to Review Bible Memory
There are so many different ways that you can review Bible memory, which I've outlined before. Here's a quick look at a handful of ideas:
Bible Memory Apps: Mobile apps such as the Bible Memory App, Verse Locker, MemVerse and other great Bible memory apps allow you to review your verses anywhere you are.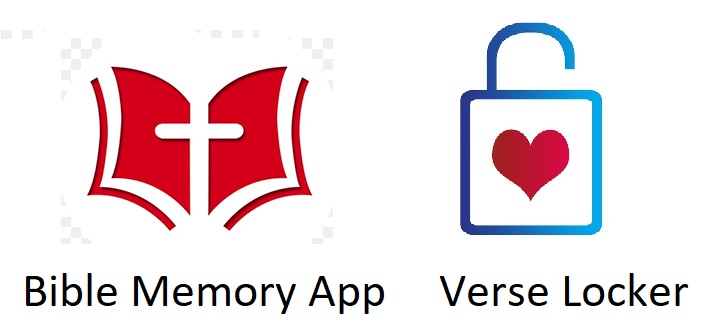 Flashcards: Some people love to create physical flashcards that they keep with them so they can pull them out and review.
Voice Recorder: You can use the voice recorded app on your phone to record yourself reciting your passages and then go back to check how you did. Or you can record yourself reading the passage and use that to listen to while you're on the road.
Recite to a Friend/Family Member: If you have a chance, this kind of accountability can be very effective! Just make sure you find a friend or family member who really loves you 🙂
Photocopy of Your Bible: Some people make a photocopy of the page in their Bible that they're trying to memorize (if they're doing extended Bible memory) or the list of verses they're memorizing. This makes it easy to pull out and memorize.
Step 5 (CRITICAL!): Rest and Re-Evaluate Bible Memory
This is a critical step that most people tend to ignore. Do so at your own peril.
Rest should be intentional and not accidental. In other words, I don't consider a day where I got "too busy to memorize" as a rest day. That's an accidental rest day and it's usually not very restful since most of the time it just adds more stress by making me think that I'm behind on my goal.
An intentional rest day (or rest days) is a period of time that you set aside not to review, but to stop completely. There's value in taking a Sabbath from all types of work and of course that's a Biblical concept.
You can also use these Sabbath days to re-evaluate your goal. Start asking yourself questions such as:
"Where is my Heart?"
"Am I still meditating on what I'm memorizing?"
"Is this particular goal still valid?"
That last question is important. Don't be afraid to adjust your goal! I've adjusted my Bible memory goal in the past.
Remember: we don't earn merit in God's eyes as we memorize the Bible. So give yourself grace. Enjoy the process and make sure you're retaining a love of Scripture as you do so!
Other Bible Memory Resources:
Follow along with all the Bible Memory Goal YouTube videos!